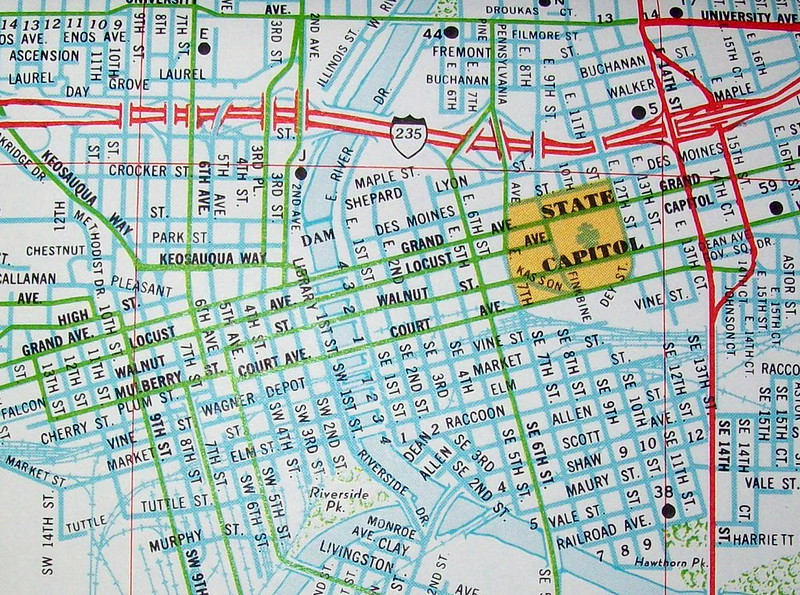 Occasionally I am asked to tour clients around the area before they make the decision to move to Des Moines.  This week I toured a young couple from Minnesota (no kids, yet).  Like many from the midwest, they had "driven through" Des Moines on their way to ski in Colorado or make a trip to a warmer destination.  They had never taken time to see our city.  It was my chance to make Des Moines shine!
First stop, the East Village of Des Moines.  I picked them up from their hotel and we drove by the Capitol, cute shops, historic churches, new breweries and bakeries.  The East Village has developed immensely since we first moved to town 15 years ago!  Next I showed them where the Downtown Des Moines Farmers Market is held as well as Principal Park and the Gateway Sculpture Park.  We dreamed about warm summer days and the Des Moines Arts Festival and all of the summer events downtown.  We talked about the ease of living in a mid-sized city like Des Moines:  less traffic, easy to get downtown, availability of parking, over all less stress and more affordability.
After we saw downtown, we headed west on Grand Avenue to showcase the beautiful homes South of Grand, Waterbury and Ingersoll neighborhoods.  We all day-dreamed about the love of old homes, the charm, the trees … the maintenance! I love taking clients down 51st street in Des Moines.  There is a variety of homes that makes me swoon and wish I did not live in the (dare I say) suburbs.
A loop past the Ashworth pool, Des Moines Art Center, and bike trails eventually led us to pick up 235 W and see the suburbs. When I am meeting with clients who are not familiar with Des Moines I talk a lot about the different types of housing available in Des Moines compared to the suburbs.  For example, West Des Moines has a great mix of established neighborhoods, small ranch homes, and larger and new homes as you move further west.  The thing I always like to say is "there is something for everyone in West Des Moines". We didn't travel past 73rd street in West Des Moines, but spoke a lot about the growth in Waukee, as well as the expansive growth in another popular suburb: Ankeny.
Waukee and Ankeny – this brings me to the end of the tour, the frontier of new construction!  On the quick driving tour of the Des Moines metro I shared with my clients that Waukee (and SW West Des Moines) and North Ankeny is where all of our new homes are being built.  Even if you are a purist who loves older, historic homes of Des Moines, you must recognize the significance of new home inventory to our housing market.  It's essential.  We need more homes to be build, here. In Iowa. And across the country.  There is a huge shortage of housing and builders need to catch up!  The backlog of materials during the pandemic did not help, but it's improving.
What did I miss on my tour?  Let know what you would add so I can improve the service I provide.